Version 2.2 introduces the following new features:
Share a Contact
The "Share Contact" button is now more powerful, allowing other ServicePlanner users to import the Contact data.
From the Contact screen you can now choose between:
Summary Email – this will generate an email with the Contacts details, the same as before … but now it will also include a file attachment. If the recipient is also using ServicePlanner, they can open the attachment in ServicePlanner to import the Contact data.
Share File – this will generate a zip file with the Contacts details that can be shared via the iOS share action sheet, allowing users to share the Contact via SMS, AirDrop, Email, or messaging apps like Telegram, Viber, WhatsApp and more.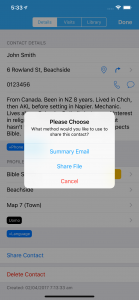 Manual Backup / Restore
In Settings there is a new option for Manual Backup. This will generate a zip file of all the ServicePlanner data and then show the iOS Share action sheet. Send the backup via AirDrop to another device, or store it using a cloud service or file sharing app. You can also email the backup via the default Mail app which will use the free Mail Drop solution to store the file for 30 days. The point is – you get to choose.
User have the option to enable Backup Reminders every 7, 14, 30 or 60 days. The backup reminder is triggered a few seconds after the app is opened – it will check the last backup time and show a reminder alert based on your settings.
To restore the data just locate the ZIP file and open it in ServicePlanner.
Some notes about the backup file:
It

will include

all publication and video cover artwork you have manually added.
It

will not include

any Territory Helper data. On each device you need to sign into Territory Helper to authenticate and download the maps and location data.
It

will not include

any downloaded video files. Videos need to be downloaded on each device as required.
Because of the above, the backup file can end up reasonably large. So you need to store it or share it using a method that supports large files. Some recommended methods include:

Send an email via the default Mail app to yourself. This will detect the large file attachment and then use the free iCloud Mail Drop system to store the file. You will have 30 days to download the file from Mail Drop.
Store the ZIP in Dropbox, Google Drive, One Drive, iCloud Files or any cloud solution.
AirDrop the file to another iOS device or Mac.
Other Changes
This update also fixes a number of low level issues.
Thank you again for using ServicePlanner. If you feel inspired to leave a review on the App Store it would be greatly appreciated 🙂
https://www.serviceplanner.app/wp-content/uploads/2017/08/Featured-Icon-App-Update.png
1024
1024
iMatt
https://serviceplanner.me/hs/full-logo-blue.png
iMatt
2018-10-10 17:08:26
2023-02-04 12:38:00
Version 2.2