Version 2.4.0 includes the following changes:
GDPR Compliance Mode
There have been some major changes to how the ministry is being conducted in the EU and UK. To comply with the GDPR these users have been instructed to no longer collect any contact data in the ministry. In order to protect myself from any legal issues as the app developer and to help users comply with these privacy regulations the new GDPR Compliance mode in ServicePlanner will:
Disable and hide the Calls tab.
Remove the Contacts section from the Today screen.
Permanently delete any existing Contact records.
All users will receive a notice about this the first time they go into the Calls tab, regardless of where they live. To activate the new GDPR Compliance mode please go into Settings and toggle the option at the top of the screen.
Territory Helper Integration
Closely related to the previous topic, Territory Helper has also integrated a number of changes in order to enforce compliance with the GDPR. I wrote a detailed post about these changes
here
. In order to bring ServicePlanner in line with the Territory Helper the following changes have been made:
The Notes field will be removed from the Location and Unit screens.
The Language field will be removed from the Location and Unit screen.
The Location Status and Unit Status screens will only list "Unknown", "Do not call" and "Delete".
You can read more about these changes and the reason for them in my previous blog post, or by logging into Territory Helper and checking your notifications.
Updated Activity Plugin on the Today Screen
Since the GDPR Compliance mode will disable the ability to view contacts and add Visits to these contacts, it is even more important for affected users to be able to easily record Return Visits and Bible Studies. On the Today screen you can now manually add Return Visits and Bible Studies using the "+" and "-" buttons. You can choose which items appear in this list in the settings top/right of the Today screen in the "Activity Plugin Items" section…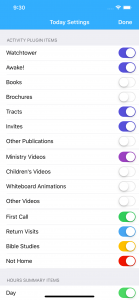 Other Changes
The app now supports Korean and Danish users! Thanks to the translators who made this possible.
Bug fixes and improvements.
Thank you again for using ServicePlanner. If you feel inspired to leave a review on the App Store it would be greatly appreciated 🙂
https://www.serviceplanner.app/wp-content/uploads/2017/08/Featured-Icon-App-Update.png
1024
1024
iMatt
https://serviceplanner.me/hs/full-logo-blue.png
iMatt
2019-06-14 22:15:42
2023-02-04 12:37:59
Version 2.4.0